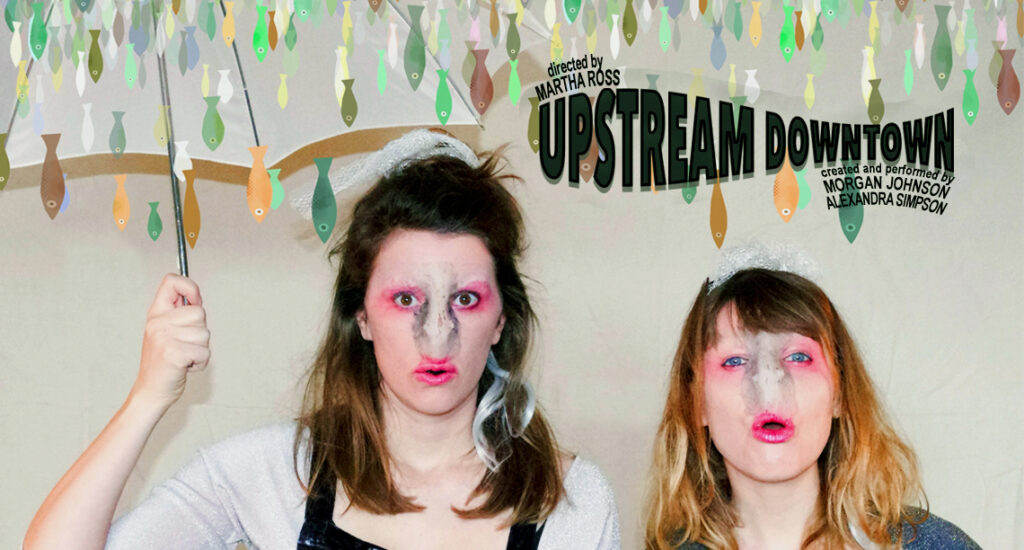 Created and Performed by Morgan Johnson & Alexandra Simpson
Directed by Martha Ross
Choreographed by Alyssa Martin
Music Composition by Anders Azzopardi and Stefan Hegeratz
Stage Management by Noah Katz // Jaimee Hall
Poster Design by Madeleine Tuer
Photography by Kathryn Hanson (ShutteredEye.ca)
About Upstream Downtown
It loves humanity. It hates humanity. It's fishy!
In Upstream Downtown the world is experienced through the bodies of Sojo and Beagle, two salmon-human amalgamates, who have been evicted from their watery dwelling and must play play their very best "human" in order to survive in a world dominated by suits (not scales). All the while they continue to search for home, food, room (or reproductive!) mates, and a bit of multispecies' love. Hiccups along the way include: a swim out of the water, a hook in the mouth, a pregnancy, and four cans of chatty salmon. A research-based, physical theatre comedic play about salmon and humans finding home in Toronto.
Originally created and co-produced with Common Boots Theatre for the 2018 Toronto Fringe Festival July 4-15, 2018.
Family friendly version created for Riverdale Park in partnership with Evergreen Brickworks (Sept 28, 2018) as part of the Don River Valley Art Program and at the Scarborough Salmon Festival in Morningside Park in partnership with Toronto and Region Conservation Authority (Sept 30, 2018).
Thank you for the support of the Ontario Arts Council (OAC) and the Toronto Arts Council (TAC).